Our Favorite College Towns: Chapel Hill, North Carolina 
At Elite Team, we love college towns: the quirky restaurants, the beloved bars and the undeniable school spirit. There's something about college towns that instantly make you feel at home and connected to the school, whether you've been there for a day or your entire life. Maybe we're a little biased, but there is something undeniable about the magic of Chapel Hill, North Carolina. There's something special about Chapel Hill, and if you ever happen upon this college town, we have some recommendations of things to do before you leave.
Friday
Fridays on the Front Porch | 5:00 PM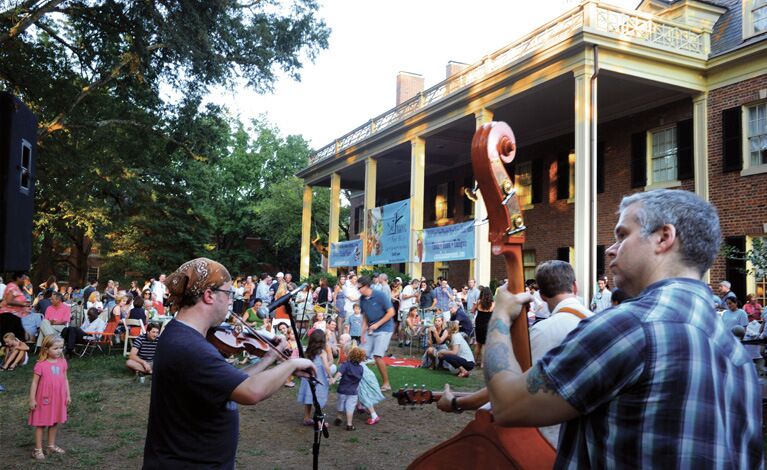 Every Friday evening from April through late October, the historic red brick Carolina Inn hotel on the western edge of campus celebrates the start of the weekend by hosting "Fridays on the Front Porch" amid the oaks and magnolias. Live music creates the perfect atmosphere for kicking back, relaxing and getting a jump on the weekend. The Inn offers seasonal picnic offerings ($14 grill menu and $9 kids menu with gluten free options), various beverage selections and fun times under the shady oaks and magnolia trees. There is no cover charge or reservations for the event.
Dinner at Al's | 7:30 PM
Stroll down Franklin Street to Al's Burger Shack for a bite to eat. Grab an NC pasture-raised burger with your choice of toppings (we'd recommend the Kenny J for a true North Carolina experience) on a scrumptious buttered potato bun, a side of sweet potato fries and a Cheerwine. Al's also offers some delicious "sweet burgers" featuring Maple View Farm Ice Cream, so make sure to save room for dessert!
Drinks at TOPO | 10:00 PM
For the best view in town, head back down Franklin Street and up to the Top of the Hill. Their menu is loaded with locally-sourced ingredients, their acclaimed beer collection is brewed right on site, and the outdoor deck boasts a panoramic view of downtown.The JukeBoxHero DJ Crew hit the floor at 11:00 on Fridays and Saturdays, turning the brewery into Chapel Hill's favorite dance club. Grab a TOPO-brewed beer or a Kansas City Ice Water and enjoy.
Saturday
Bacon for Brunch | 10:00 AM
Take a step back in time and get in line for the world's best BLT at Merritt's Store and Grill. On a busy Saturday, Merritt's sells up to 700 of them, with a 45-minute wait out the door. The B.L.T. has become Merritt's calling card — a destination sandwich featured in magazines like National Geographic Traveler, Southern Living and Every Day with Rachael Ray. On Saturdays, Merritt's often plays host to "Banjos & B.L.T.s," where a trio of musicians plays old-time string music in the corner. A standard B.L.T. has a recipe only three letters long, but the Merritt's version complicates things by coming in three sizes: single, double, and triple. The numbers correspond to how many layers of bacon, lettuce, and tomato the sandwich contains. We recommend adding pimento cheese on yours. Trust us, they're worth the wait.
A Quick History Lesson at the Carolina Basketball Museum | 11:30 AM
You don't have to be a Carolina basketball fan to enjoy a trip down memory lane at the Carolina Basketball Museum, located adjacent to the Dean Dome. The museum has interactive exhibits replaying great moments in the program's illustrious history and a fascinating collection of Tar Heel memorabilia, including National Championship trophies and Coach Smith's typewritten notes suggesting areas for improvement to a player named Michael Jordan and the infamous letter from Coach K to MJ once he had chosen UNC over Duke. The Carolina Basketball Museum is open to the general public Monday - Friday from 10:00 am-4:00 pm and 9:00 am-1:00 pm on Saturday. Admission is free to the public.
Explore Franklin Street | 3:00 PM
Franklin Street, Chapel Hill's main drag, is lined with coffee shops, restaurants, museums, bookshops, music stores and bars. Head to the Ackland Museum Store, where the artistic wares are often linked to exhibits at the Ackland Art Museum around the corner. Stop in at some of the boutiques, clad with UNC apparel. Check out Johhny T-shirt, the official merchandise provider to the UNC General Alumni Association, for all of your Carolina blue needs. Swing by the Varsity, and see what's playing at the 90-year-old movie theater. 
Chapel Hill-Style Pizza | 6:00 PM
The Italian Pizzeria III is a Chapel Hill tradition and serves some of the best pizza outside of Italy. Brothers Angelo and Vincenzo Marrone have been serving up authentic Italian pizza in Chapel Hill since 1980, and you can often hear them yelling in Italian behind the counter at whatever game is on TV and being chummy with the UNC athletes that always happen to be there. IP3 has a full menu of fresh-dough pizza and other Italian specialties. They also offer pitcher specials on a good selection of draft beer, including Yuengling, Sam Adams, and Bud Light.
A Sweet Treat | 8:00 PM
Head to the Yogurt Pump, or as students affectionately refer to it as YoPo, to find out what frozen yogurt is swirling today. YoPo has been a Chapel Hill staple since 1982. If you aren't in the mood for froyo, venture across the street to Sugarland, North Carolina's Favorite Dessert Destination, for a cupcake or frozen martini. Sugarland cakes have been featured on the Food Network, the Today Show, Good Morning America and more! Between YoPo and Sugarland, your sweet-tooth is guaranteed to be satisfied. 
A Blue Cup from He's Not | 10:00 PM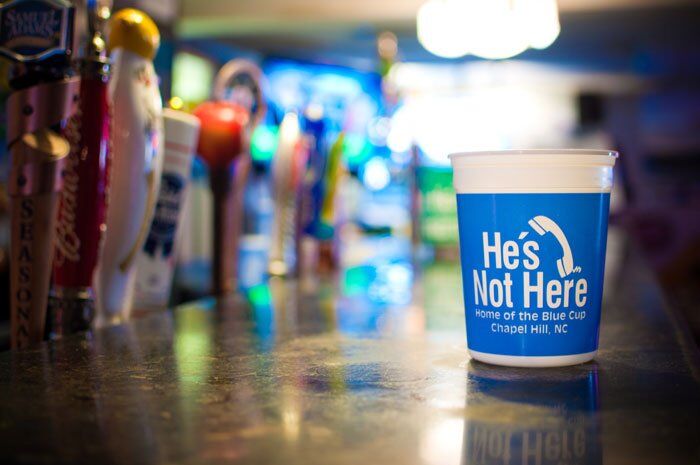 He's Not Here on the Village Green first opened its doors to thirsty customers back in 1972 and they've been coming back ever since. Choose from over 30 beer options on tap and sip out of their iconic 32-ounce "Blue Cups", a souvenir you will definitely want to bring home. (Don't worry - they're dishwasher safe). Hang out in the courtyard and enjoy live music and some of the best people-watching in Chapel Hill. 
SUNDAY
Breakfast from Chapel Hill's Only Drive-Thru | 9:00 AM
Regardless of how the basketball team is doing, most Tar Heels would agree that the best fastbreak in town is from Sunrise Biscuit Kitchen. Don't be surprised if the drive-thru line for Sunrise backs up down the street, as it's the only drive-thru in the Chapel Hill town limits. The award-winning buttermilk biscuit recipe has been in use since Sunrise opened in 1977, and has been curing road rage (and hangovers) ever since. Find out for yourself why these biscuits have been hailed the Best Breakfast in North Carolina (and why the Travel Channel loves them too)!
Campus Tour | 11:00 AM
Take a walking tour of the first public school in the United States. Make sure to take a sip of water at the Old Well, the unofficial symbol of UNC. Campus tradition dictates that a drink from the Old Well on the first day of classes will bring a student straight As and students line up down the block for a shot at that 4.0. Head to the Bell Tower and listen closely. The bells ring every 15 minutes, chiming on the hour in addition to chiming other songs or the alma mater as part of university celebrations or holidays.
Diner-Style Lunch | 1:00 PM
Since 1923, Sutton's Drug Store has been a go-to in Chapel Hill. Walk past the short aisles filled with college-town staples — energy drinks, candy bars, and Solo cups— and you'll find an anomaly in today's world of generic, drive-through drugstores. There, in the back of the store, right beside the pharmacy, a grill sizzles as cooks fry hamburgers and customers eat and socialize at the counter, close enough to watch every detail of preparation that makes the food at Sutton's taste just a little bit better. For decades, the flavors coming off the flattop grill in the back of Sutton's Drug Store have been reason enough to stop in for a bite. But it's the family feel of the place that brings most customers back on a regular basis.
WHERE TO EAT
Al's Burger Shack 
Merritts Store and Grill
Italian Pizzeria III
Yogurt Pump
Sugarland
Sunrise Biscuit Kitchen
Sutton's Drug Store
WHERE TO DRINK
 Top of the Hill
He's Not Here
WHAT TO SEE/DO
Fridays on the Front Porch
Carolina Basketball Museum
Franklin Street
Varsity Theatre
Old Well
Morehead-Patterson Bell Tower
Can' t get to Chapel Hill? Snuggle up like a true Tar Heel fan with a University of North Carolina Elite Team blanket and dream of the smell of the dogwoods, Michael Jordan's humble beginnings, and taste of a Merritt's BLT. 
Did we miss any Chapel Hill staples? Let us know your favorite Chapel Hill spots in the comments below.